Gareth Jones was one of the best known faces on Children's and factual TV for over 20 years. Known as Gaz Top for his first 3 years on television, his breakthrough was hosting "Get Fresh" a live Saturday morning show on ITV. Returning to his real name Gareth Jones, he presented the hit ITV facts and fun show How2 for 16 years between 1989 and 2005. He currently appears on Welsh television channels and also works in the field of cars and motorsport coverage and presents and produces the hit car podcast Gareth Jones On Speed. Here he recounts how his love of vehicles goes waaaaay back to his childhood.
Raleigh Chopper by Gareth Jones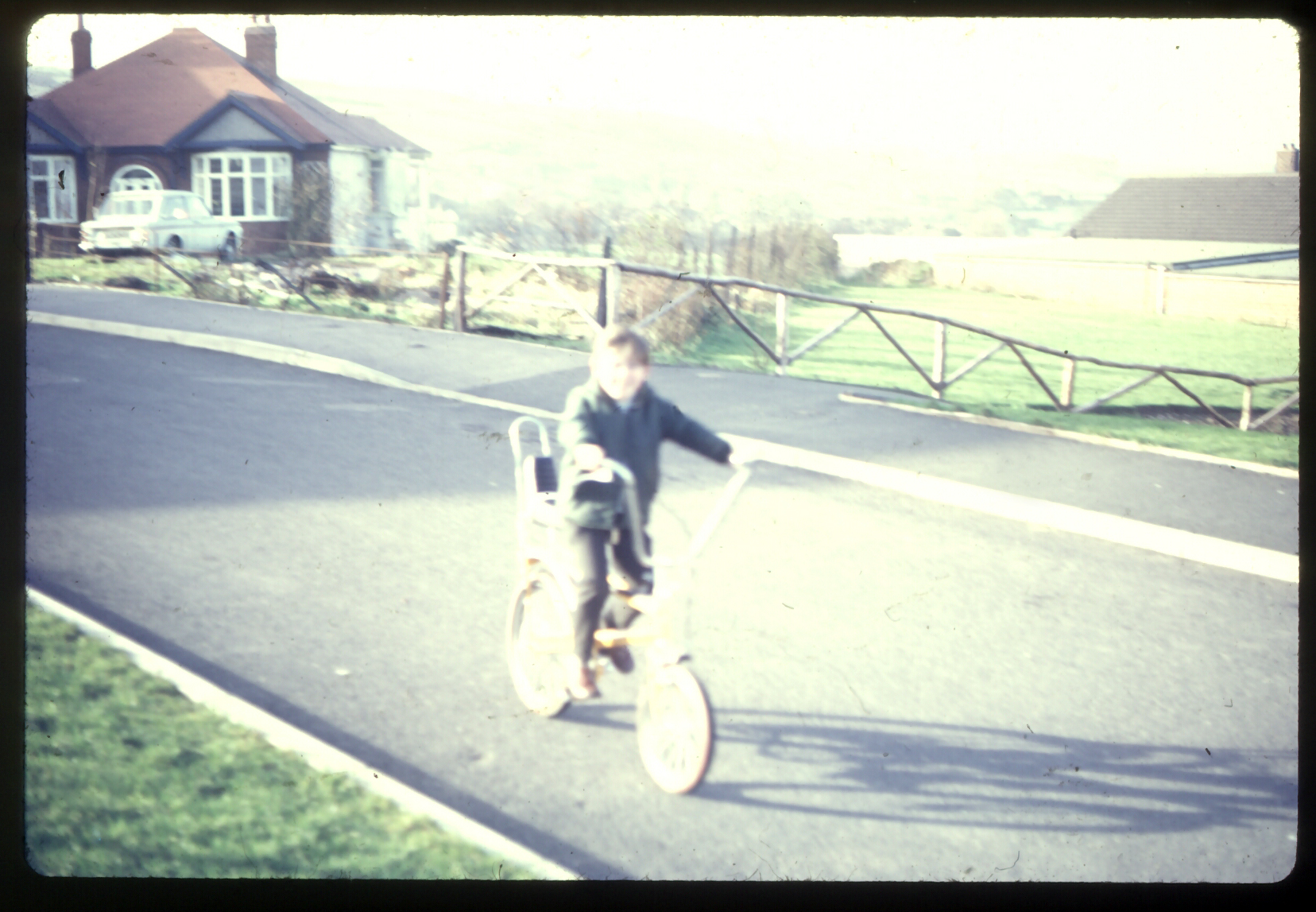 That bike was simply the coolest thing in the known Universe. Chunky off-road rear wheel; L-shaped seat that could give a seater to pals; ape-hanger handlebars, and a central gearstick (which was painful if you bashed your tackle with it when sliding forward off the seat during a sudden stop).
I was a very small boy at the time so my dad did the classic 70s thing of bolting a pair of wood blocks to each pedal so I could reach them. I named the bike "Hoss" after a character in The High Chaparral. I angled the handlebars back, rather than forward, to make it even cooler.
I fantasized about that bikes special powers: in my mind, freewheeling downhill would pump compressed air into the bike's frame, building up (imaginary) potential energy that was released back into the drivetrain for 'uphill boosts' — an idea that Peugeot are actually pursuing today!
And yes, I could wheelie my Chopper the entire length of the avenue I grew up on.
It was an incredible machine, matched only by the extraordinary turn of events which made this bike mine …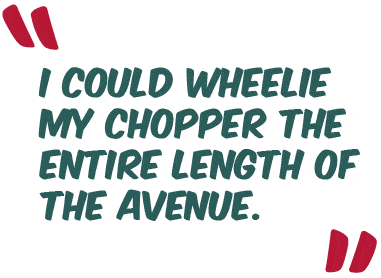 When I was growing up my father had a TV and radio shop in a small town called Holywell in north Wales. Six weeks before Christmas 1970 I was in the town's bike shop run by Jim Williams – I was there with my mother, getting a new pump. I told Mr Williams that I'd seen a terrific new type of bike on Blue Peter. "Yes Gareth', he replied. And then with a huge wink, "When they come in, I'll put your name on one". My mother and I smiled and laughed as we left the store.
Apart from selling bikes, Jim Williams also sold electrical goods, making him my father's direct business rival. The level of competition between these two shopkeepers was intense; indeed my father would walk down the deserted high street under the cloak of night at 2am in order to pass Jim's shop, make a sly note of the prices his rival was charging for transistor radios, shavers and portable TVs and then adjust price tags for the same goods in his own window. And of course Dad would never be seen in Jim's shop and Jim would never cross the threshold of K G Jones Television Ltd.
But, on Christmas Eve something extraordinary happened — the door opened in Dad's shop and in marched his rival Jim Williams, wheeling a shiny new yellow Raleigh Chopper. (Mk1, tall frame, round hoop — for those who need to know). I'm told the conversation went something like this:
"Hello Ken, here's that Chopper your son ordered: that'll be £33." I'm obliged to say this was a lot of money in those days (and, unexpected as it was, my parents had already wrapped my Christmas present).
But Dad didn't say a thing. He simply looked slightly quizzically over his glasses before reaching into his shop till and counting out three of those old-style – bigger, thicker, crisper, noisier — ten pound notes and three equally super-sized, green-hued one pound notes. No protestations, no quibbling: it was a matter of pride.
So, on Christmas morning an excited 9-year-old-me runs into my parents' bedroom thrilled with the Corgi model of a Tri-deck car transporter (it was a Scammell Carrimore, vehicle geeks) sitting in my Christmas sack. Dad said: "There's more. You'd better go downstairs" Which I did, and found the even bigger 'big present' waiting for me –the Raleigh Chopper, with the price tag still attached.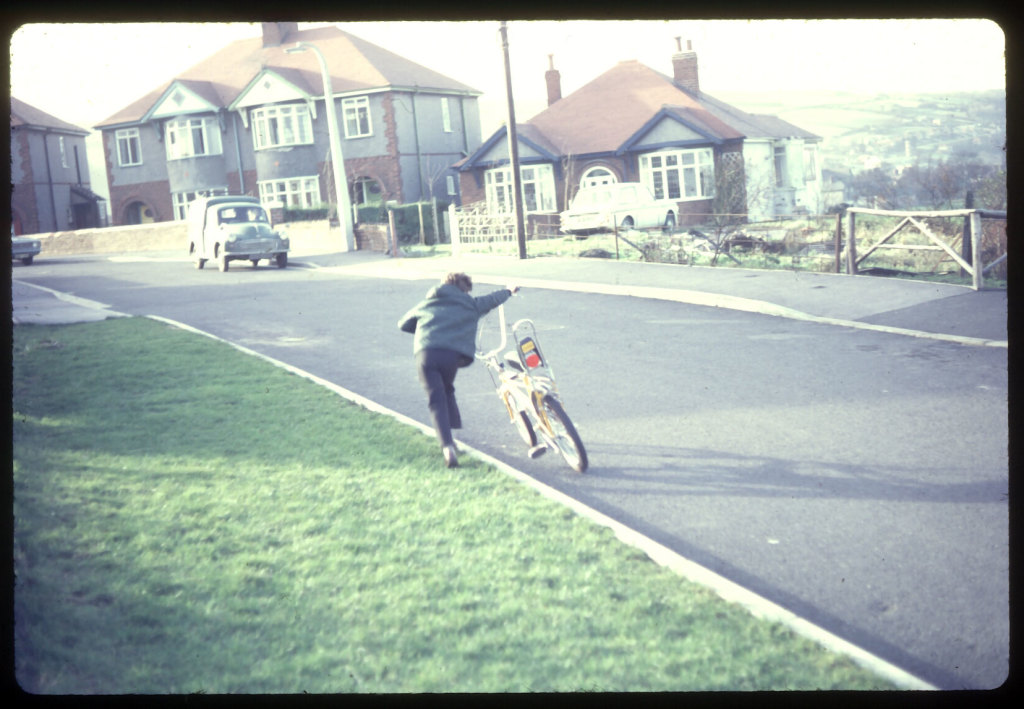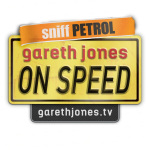 Best. Christmas. Ever.
You can follow Gareth on Twitter, and to hear more of Gareth's Toy Stories, I heartily recommend the 2013 Christmas Special edition of Gareth Jones On Speed.
If you would like to share your toy story, let me know @stuartwitts.