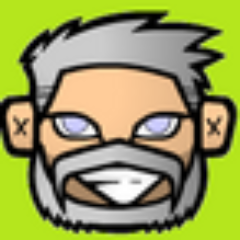 Drew is a learning technologist, Chair of @naace, volunteer, researcher of Nail Houses and a late discoverer of his own ability to draw. As someone who has ten Big Traks in his office, Drew is no stranger to the magic of toys and in his story shares an especially emotional memory.



Shield's Garage by Drew Buddie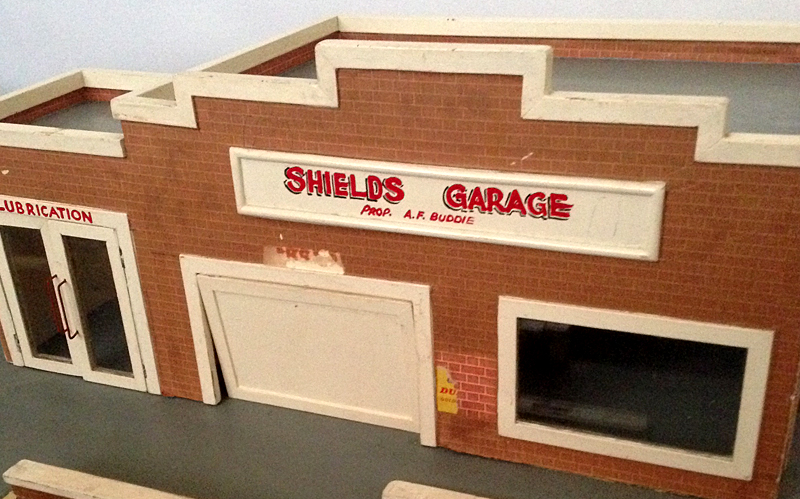 It's about 6am on Christmas Morning 1976 and I'm 12 years old. I take my place under the Christmas Tree with my family and excitedly wonder what Santa has brought for me. My younger brother and I alternate our ripping of paper and joyful yells of surprise as we find 'Haunted House', 'The Fastest Gun', 'Casdon Soccer' and two 'Orbitoys' – gifts we'll play with repeatedly later in the day, and for days and months to come.
Then I spot 2 large parcels positioned so that they'd be the last presents we'd each open. We both look at Mum and she nods kindly and knowingly at us both, silently implying "Go on then".
So we do.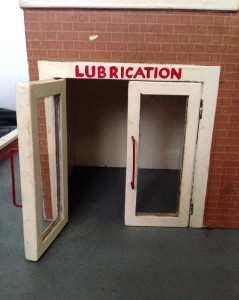 We each tear open the paper that has been so carefully wrapped around these 2 large behemoths, so much bigger than the rest of our presents had been. We both gasp as firstly my brother finds to his joy that the large cuboid he's opened is a hinged wooden 'box' of sorts, and a plethora of plastic animal tumble out as he opens the box to form a 3 foot square wooden, handmade farm – just what he'd been wanting all year long.
My excitement gets the better of me on seeing this, so I am more carefree than usual as I become like the Tasmanian Devil, a blur of motion as I rip every shred of paper covering my present. It's a garage. A wooden, homemade garage. With my full name on the sign above the showroom window as 'Proprietor'. And I shout 'Yes!' Cos it's what I'd wanted all year long too. So I could play with all of my toy cars that I'd been collecting for years.
And then, as I look at the garage more closely, I exclaim "It's not finished."
And I realise it's the first year there's no reel-to-reel recorder, as had been our usual tradition, archiving our reactions for posterity, so I'm glad those stern words were not captured.
And I cry.
And then we all cry.
My brother and I loved getting handmade presents for Christmas. There's absolutely no way that a toy mass-produced in a humongous factory can ever replace a present that was crafted from scratch, especially made with YOU in mind.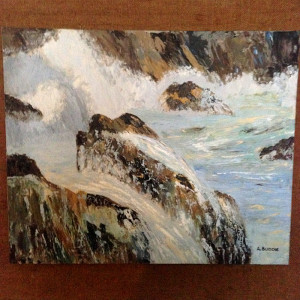 Now, as I write this in 2015, my dad's paintings hang throughout my house and that of my brother. Housed in sometimes massive frames they are quite anachronistic, and I'm always being told that perhaps his 30″x 18″ oil of a flowing Scottish burn doesn't need to be housed in a 4 foot square hessian-backed frame; but as long as there is space for it on my wall, that's the frame it shall have.
My dad, like me also called Andrew, painted from a very early age and his pastel drawing of Ernest Hemingway also hangs in my sitting room as a constant reminder of the artistic talent that runs in my family.
But if such a thing as an artistic 'gene' exists, then it totally passed ME by for virtually all of my 50 years. In saying that, I have begun a year long project to draw a picture every day to illustrate a fact I learned on that day (find out more by checking out my daily #whatIlearnedtoday hashtag on my @digitalmaverick Twitter account). And there is no doubt that after so far drawing pictures for 115 consecutive days for the first time in my life, that my perseverance is bearing fruit -that I am drawing people as something other than stickfigures is something I would never have thought possible.
My dad's flair for accurate drawing led to him becoming a very accomplished draughtsman for a local firm, before going to work in East Kilbride for Rolls Royce's aeronautical division, and he worked on the RB111 engine (I think). He had the coolest drawing tools you've ever seen, which I always borrowed from his briefcase whenever I could: propelling pencils, steel rulers, wooden foldable rulers, curved stencils, beautiful pens with nibs as thin as very thin thin things. I'd scurry away with them to my room… and there I'd sit at my desk and pretend to be my dad. But I'd always return the implements to his briefcase before he noticed. At least I am sure he didn't notice…
We lived in a cul-de-sac in a large Victorian house in one of Motherwell's most desirable areas. My dad's DIY skills were relatively legendary and we were convinced he'd bought the house simply because it had so many jobs that needed doing to it – like the Forth Rail Bridge. Virtually the whole house – high ceilings, old outhouse, rickety garage and all – in some shape or form had been tackled as a project by him at one time or another, or was still a 'work in progress'.
I guess both of these abilities, artistic and DIY, and the fact that he'd a proper 'workshop' – with more tools than that from which Ronnie Barker sold 'fork handles' – meant my dad was a natural for hand-making toys for his kids. I remember his pattern of finishing his tea, getting changed into his working clothes and a woollen tammie – the workshop was freezing cold – and scurrying out to his workshop. Then he'd be there for hours straining to see what he was doing as a low wattage bulb is all that would function in his workshop without the fuses blowing.
If we were lucky my brother and I'd get to watch him at work – making a new U-bend for the sink, or a cover for a drain, but sometimes the workshop was a 'No Go Zone'. We came to realise that this was when he was making something special. And usually for us.
In 1974 my dad made me a truly beautiful cowboy fort – Fort Laramie – and my brother a castle. This led to us fighting Cowboys AND Indians VERSUS Knights and Dragons – the greatest game mashup ever, I'm sure. Well it was to us.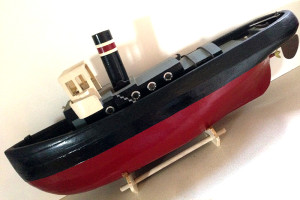 Then in 1975 my dad made an amazing battery-powered tugboat – modelled on the Vital Spark of Para Handy fame. The boat was fantastic, but very heavy… oh, and as it predated cheap remote controls, it meant that you had to wade in the water WITH the boat if you wanted it to do anything other than go in a straight line – NOT very convenient, but by heck it looks fantastic on my bookcase even to this day.
In 1975 it became apparent that Rolls Royce was going to make mass redundancies, so before being forced to leave, he took voluntary redundancy to train as a teacher of technology. He did his training at Jordanhill College of Education and completed his successful teaching practice in early 1976 at the school I was to join in August 1976. I still have the completed report of that teaching practice in which the Headteacher described him as a potential asset to any school. In fact, the school backed this view by offering my dad a job. To start in August 1976 on the same day my dad did.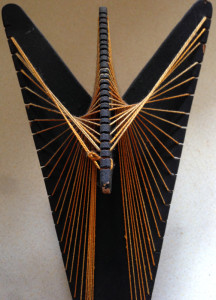 My brother and I knew that our dad liked to make whatever he was making for us when we weren't around, especially now that we were getting older and more inquisitive. So when I found out I had to go into hospital for an operation in early August of 1976, I knew he'd use that time to get cracking on our Christmas gifts – but I was very intrigued as to what it might be.
Later on, although a bit of a klutz with my hands, when I joined the school I was determined to emulate my dad. So in the in the technology lessons in the department my dad had been offered a job in, I made the string sculpture and a wooden dinosaur – the only things I've ever really properly crafted with own hands – which I still have on display in my home.
Only.
It wasn't my dad that I made either of those with.
And I wish it had been.
I would give anything to have been in a woodwork class my dad would taught.
I'd have loved to have learned his skills and to take his advice about planing, and gluing, and sawing, and making joints.
And his wish to be a teacher, to help others to learn to be better at doing stuff, is the very reason why I became a teacher as soon as I could.
You see. My dad never started working at that school.
Because the reason he never finished making my beautiful wonderful garage for me. The reason I keep so many of the things he made around me in my home.
The reason for all of these is that on my first night in hospital my dad died in his sleep at home, and I never saw him again.
And that is why my now tattered, old, unfinished garage, with my name shown above the showroom window as 'Proprietor', made in a dimly-lit, freezing cold workshop, was the most special gift I was ever given and was my favourite toy.
You can follow Drew on Twitter and if you would like to share your toy story, let me know @stuartwitts.