Self-certificated Toyologist Peter is an expert on toys and tech trends, scribing and broadcasting on all the latest offerings from the batteries not included scene. A passionate board gamer he co-founded a melting pot of talent that is Board Game Club, a monthly get together for inventors and play testers to get together and develop ideas.

Cascade by Peter 'Toyologist' Jenkinson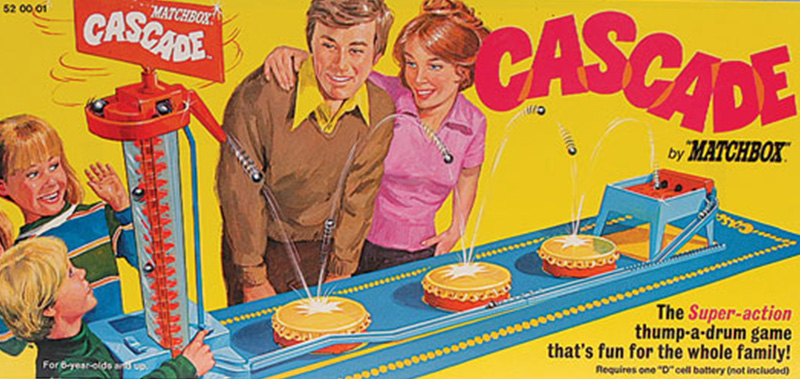 Some toys need a decent set-up space, a few of these need a hard/flat surface, Cascade needed your kitchen table – and not for mere minutes.
As I remember the mesmerising times I stood beside the twirling clackety flag atop my Cascade, able only to load the ball-bearings with the aid of a dining room chair, I realise it was much more than the sound and motion of the Lemming like spheres as they hit the trio of tambourines. When Cascade was being "played" I was the king of the very busy kitchen.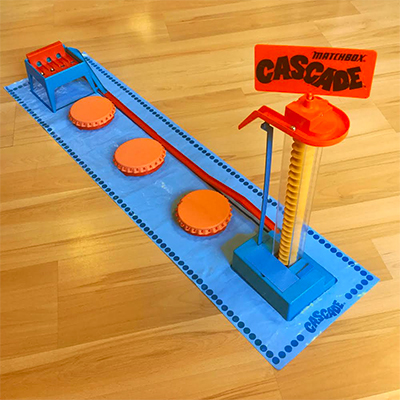 Growing up on a farm this place where the humans ate was a busy thoroughfare in the 70's, meal times were breakfast at 7am, lunch at noon, tea at 5pm and supper at 8pm. In between were a couple of rest-stops for casual workers called "baggin" where the 12 seater table would be laid with various foods to keep everyone going as they grafted.
To "own" the table for anything above an hour was quite an achievement, no one else could do it, I HAD to have the table no-where else could host it.
Over the course of one very hot summer (we had acres of wheat and it was a scorcher) folk would teem in and out of the house, many remark on what the hell was that contraption, me flip it on and most of these traditional country types leave the room impressed (and fed and watered).
As time passed, the depository of ball-bearings began to grow, I wasn't sure who was leaving them behind, but at one point I swear I had fifty or so and planned something spectacular.
The tambourines were lined, the Archimedes screw ready to pull overtime with a brand new D battery fitted and the epic display ready for delivery of the ball-bearings and hoping that if half made it to the end it'd be a great day.
Over a half-hour period on that Saturday afternoon I kept back about five farm workers in Grans kitchen, preparing them for this feat, mostly reluctant they stayed as Gran had given them the nod.
The power was applied, the screw beginning its turn and taking the first of the half-hundred to the top to say their farewell to the revolving sign and begin their descent. All fifty loaded, but not before the first few had started that glorious "drrbbing" across the tambourines, the last left the tower as the first batch started to clatter into the collection tray – there was far too much going on for a group of middle-aged farmers and an excited young potential science engineer to take in. Only a handful never made it, the balls now all returning for a second pass, the room was silent and a couple of faces appeared at the window and so they went again… I stood glued to my spot for at least half an hour, gradually less and less balls making the complete journey, the tambourines shifting slightly with every pass.
Time came to pack it away, and I did so without fuss, I was the undisputed Cascade Kid and everyone would be talking about what they'd witnessed that day. Slumped in front of the TV, an advert came on, Bing Bang Boing – A far superior tambourine based ball bearing bouncing set-up from Ideal was being advertised – "Bollocks"!
First time I ever said that word.
To read more from Peter, follow him on Twitter, and if you would like to share your toy story, let me know @stuartwitts.