Mo gets paid for chasing after inconsequential facts and looking at pictures. But in this guest post she tells us about a special present from her father that avoided gender stereotypes.
Triang Train Set by Morag Mcfarland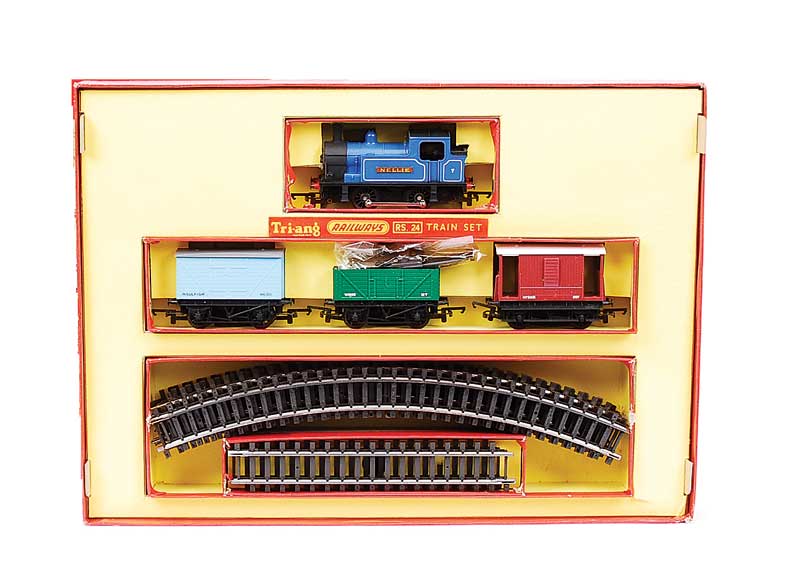 When I was about 7 my Dad decided to go and get both me and my brother special presents. It wasn't Christmas or our birthdays, I think he had had a bonus or something because there was never usually any spare money. He went to a big toyshop in town to get us a treat.
My brother was easy – Scalextric. Ian was 9 and car mad and that was the new must-have toy. But for me he struggled. I had dolls and a dolls' house but my favourite things were building blocks and books. All the "girls" toys were boring: ironing boards, cookers and dolls that wet themselves. He told me many years later that it made him sad that that was all that was on offer, an image of a domestic future.
So he took a chance and bought me a train set. I still remember opening the parcel. My first thought was "This isn't for me, it's a boy's toy, I hope Ian lets me play with it sometimes" But when I realised it really was for me I was so excited. We set it up right there and then on the living room floor next to the Scalextric.
It wasn't much to begin with – a single circuit with one locomotive and a few trucks but over time I got more track and accessories.
It became the centrepiece of many games – the train would carry my little dolls around, passing by the dolls' house and one of the first things I got for it was a bridge so the train could run over the nearby formula one (Scalextric) track. It never reached the level of a permanent layout or became an obsession like it does for some (no, I never became a train spotter) but I loved that train set. And even more I love that my Dad didn't pay any attention to gender stereotypes and got me something he thought I would enjoy.
Thanks Dad.
To view some of Mo's photography and illustrations visit her flickr or follow her on Twitter. And if you would like to share your toy story, let me know @stuartwitts.