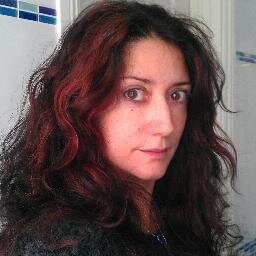 KT Davies has worked variously as an actor, a scaffolder, a teacher, and theatrical prop maker. She now writes. When she isn't writing she can be found reading comics, playing computer games or practicing western martial arts and one day, she might get the hang of them, until then no light bulb is safe. In this guest post, she tells us about a bear who is always there for her.
Teddy Edward 'Big Ted' by KT Davies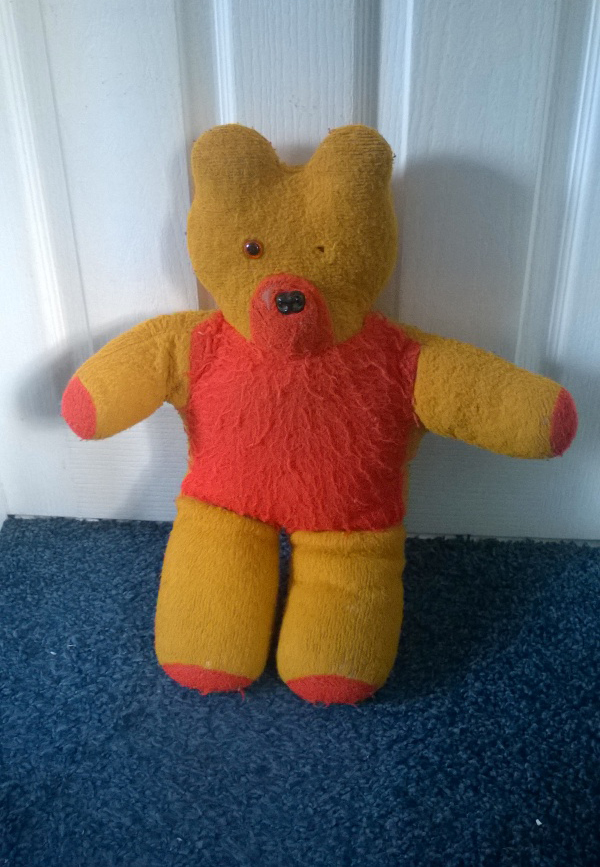 The recollection of my parents' highly acrimonious split is pretty vague now; reconstructed over the years, by fading childhood memories, it has taken on the quality of a story— something that happened to other people, but I'll never forget the day, soon after we left, that my dad gave me Big Ted.
It wasn't my birthday or Christmas, I think he was one of those 'I'm sorry we split up' guilt presents. But I didn't care. I loved him from the moment I laid eyes on him. Now don't get me wrong, Teddy Edward or 'Big Ted' as I call him, aint no looker. He's a late 1970's bear, which as all fashionistas will know was the decade that style forgot. I just remember looking at him, in the kitchen of the maisonette where we'd just moved and being utterly delighted.
Unfortunately, I had an odd way of showing it. My mother read the label that amongst other things, said his head was fireproof. So being an inquisitive child, as soon as I got him alone, I tried to test the claim by stuffing him through the bars of an electric fire. There wasn't any malicious intent behind my actions; I was doing it in the name of SCIENCE! Luckily, I was stopped mid-experiment and Big Ted escaped unscathed.
If you look at the photo of Big Ted you will note that he is a 'well loved' bear. His right arm is kinked, where I used to drag him round in the childish death-grip that nothing can sunder. His muzzle is balding, his eye no doubt lost in some titanic scrap with the monsters under the bed from whom he would protect me every single night of my scared-of–the-dark-childhood.
Ted, my not very attractive 1970's notion of a bear, was my confidant, my comfort, and my boon companion. He now sits in a corner of my bedroom with a bunch of other, moth-eaten soft toys, slowly falling into cuddly dotage, but I love him just as much today as the first time I saw him. He never judges me, and never questions me, and like all good bears, whenever I need him, he is there.
You can follow KT on Twitter, and if you would like to share your toy story, let me know @stuartwitts.